English speaking competition opens in Hangzhou
More than 500 contestants from 30 countries and regions gathered in Hangzhou, Zhejiang province, on March 22 to attend a renowned competition of public speaking in English.
The three-day event of the China Daily 21st Century Cup National English Speaking Competition and the Belt and Road Youth English Speaking Competition consists of semifinals and finals, as well as a slew of cultural exchange activities.
The ages and levels of the contestants range from English beginners in kindergarten to advanced students in college and those already graduated, all of whom have undergone preliminary screenings and several regional competitions to make it to the national finals.
Different competition groups have different themes, and the given topics of the prepared speeches at the finals are: My First Special Memory; No Pains, No Gains; No Cross, No Crown; My Love of Learning About Chinese History; A Glimpse Into the Future and Nature Is a Common Language.
The judges of the finals are senior English educators, translators and interpreters, diplomats, and English-language media practitioners, who will give an overall evaluation of contestants for their language skills, knowledge and thoughts, as well as their manners onstage.
The annual competition has enjoyed great popularity as it has been held in major Chinese cities including Beijing, Shanghai, Guangzhou, Nanjing, Chengdu, Wuhan, Shenzhen as well as Hong Kong and Macao.
The competition also serves as the qualifying contest in China for the International Public Speaking Competition, which will be held in London in May by the English-Speaking Union.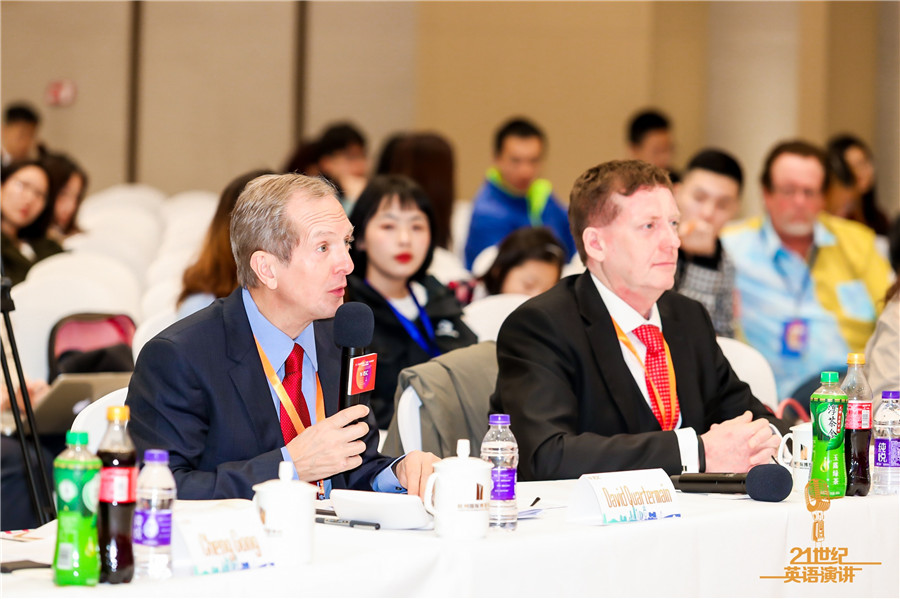 A judge comments on the performance of a contestant. [Photo provided to chinadaily.com.cn]